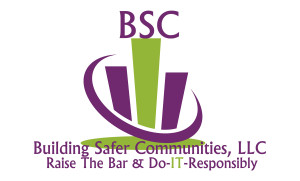 Building Safer Communities LLC (BSC) is a Certified Minority & Women Owned Business Enterprise (M/WBE) Vendor with NYS, NYC and NJ that provides prevention, intervention, education and training services for adults, 18 and older, as well as, an education and sports program for adolescence and teens between the ages of 6 to 16-years-old.
Recidivism among New York City's adult population impedes individual progress, which begets fractured relationships and families. The purpose of BSC, therefore, is to redirect the status quo through education, which is the basis of societal stability and spawn responsible behavior. Government and non-government-based agencies refer clients to BSC so that they can take preventive classes to learn how to Adapt, Survive, Rebuild and Thrive. Ultimately, the classes show clients how to Raise the Bar & Do-IT-Responsibly®.
BSC's model and services are unique in the industry. Taking a holistic, proactive approach BSC helps participants remove barriers and deal with issues that may hinder their progress, such as personal, familial, community and or legal. A change from a negative path to a positive one requires teamwork; ergo, BSC works closely with individuals, neighborhood organizations, businesses, entrepreneurs, corporations and government agencies to achieve its goals
BSC's services are in direct response to a few factors. Last year in New York City there were 138,505 arrests for Domestic Violence, Child Abuse Neglect and Mistreatment, Drugs and Driving While Under the Influence of Drugs and, or Alcohol.  As an alternative to incarceration the city's Criminal and Family Courts mandate defendants to classes, but most agencies who provide classes are too singular and do not offer inclusive services to meet client needs. Moreover, agencies neither put enough emphasis on education, nor have clients take what they have learned and share it with their households and communities.
BSC offers the following services:
Workshops & Classes
Domestic Violence
Anger Management
DWI/DUI
Parenting
Supportive Services
Empowerment sessions for individuals, couples and families
Recovery Coach Services
Interactive Journaling
Training & Development
Workplace Bullying
Recovery Coach Academy
Offender Workforce Development (OWD)
Adverse Childhood Experiences (ACE's) & Trauma
–
Recreation
Education & Sports Program
Questions, Answers & Solutions Podcast
–
Educational Interests
Internships, Externships & Volunteers