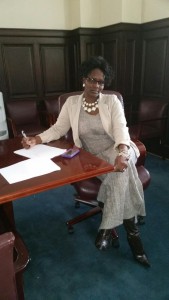 Je'mere K. Heyward, founder and chief executive officer of BSC, LLC is the organization's vision and voice. Born in New York City, Ms. Heyward grew up in the Abraham Lincoln Houses in East Harlem, where she was an eyewitness to domestic violence, drug dealing and street crime. She has first-hand knowledge of what it is like to: grow up in a one-parent household, have an incarcerated parent, experience teenage pregnancy and homelessness. Ms. Heyward did not make excuses, host a pity party or point the finger of blame. Instead, she used a natural resource, education, to rise above, move forward and help those in need of guidance to a road where they can lead a positive and productive life.
Ms. Heyward's passion to work with victims of societal ills stems from her childhood observations and compassion for those who struggle helping themselves. She has worked with diverse populations in the areas of, but not limited to: incarceration, re-entry, homelessness, mental health, substance abuse, parenting recovery and domestic violence.
Ms. Heyward has attended comprehensive trainings and is credentialed in the areas of: Alcoholism by Prime for Life Research Prevention Institute in Rochester, N.Y.; Parenting Nurturing Parents Family Development Resources Inc., in Poughkeepsie, N.Y.; Creating a Process of Change from Men who Batter by Domestic Abuse Intervention Programs in Duluth, MN.; and the Nonprofit Leadership Executive Education Program by the Fordham Center for Non-Profit Leaders by Fordham University.
In addition, Ms. Heyward is certified with the Minority and Women Owned Business Enterprise (M/WBE) by The Small Business Administration (SBA), serves as a Connecticut Community for Addition Recovery (CCAR) Recovery Coach, as well as a Recovery Coach Trainer provider approved by the New York State office of Alcoholism and Substance Abuse Services (OASAS).
Lastly, she is a Credentialed Addictions Substance Abuse Counselor in Training (CASAC-T) and in pursuit of becoming a Credentialed Addictions Substance Abuse Counselor (CASAC). Ms. Heyward continues to pursue training and educational opportunities to improve as a professional and offer the best to her clients and community. It also directly reflects what she fosters, Raise The Bar & Do-IT-Responsibly®.