Every Saturday morning and afternoon men arrive at the Education Assistance Corp., (EAC) Network in Brooklyn, N.Y. to take Batterer's Intervention classes. Though from all walks of life – some Riker's Island alumni, some homeless, others upper-middle-class – all were charged with domestic violence and are court mandated to take the 16-week course. Anger is another element they share. Before class they often exchange profanity-laden grievances about the legal system, broken relationships and life in general.
When Je'mere Heyward, facilitating supervisor of the Batterer's Intervention Program, enters the classroom, she greets the palpable anger with a positive charge and resolute forbearance. Her calm demeanor quells their tension, and dissipates their negative energy.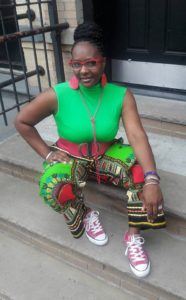 They hold Je'mere in an undeniable esteem, based on the fact that she teaches with a genuine passion, attentively listens and responds with no trace of judgment, or patronization. She frequently says, "In order to teach you have to remain teachable." Consequently, she takes what they say seriously so that she can learn from them.
She reminds them that, "We are all perfectly imperfect," but it's how we cope with our imperfections that matter. Je'mere is quite familiar with being imperfect when dealing with difficult circumstances. Instead of running away she got right into adversity's face, and scored an incredible victory. Her personal experiences foster one of her class creeds: "Adapt, Survive, Rebuild and Thrive," and beget the spiritual aspect – inner strength, stability, compassion, love and guidance – of her personality.
Her spirituality and unequivocal empathy for anger and frustration are the keys to her success, and it stems from being homeless, which instilled compassion in her for those fighting against life's odds. At 17 she became pregnant and was put out of the house.  She went to the Department of Homeless Services and lived in a series of shelters for two years.
Taking inventory of her life the first week in a shelter, Je'mere found out that her mother was diagnosed with a mental health diagnosis. Guilt shrouded Je'mere and she couldn't help but think that her bad behavior over the years contributed to her mother's disorder. Although her mother was strict and tried steering her on the right path Je'mere didn't listen.
Growing up in the Abraham Lincoln Houses in East Harlem afforded a front-row seat to life's ugly side. Je'mere never got into drugs, but she was not afraid to fight. In the third grade a chip started developing on her shoulder, and by the time she was a teenager it developed into a mountain. She was a defiant, hard-headed girl, who was pissed off with life. Reflecting back, Je'mere said, mothers of children in the Abraham Lincoln Houses slapped "a bad influence" label on her and told their children to keep away.
Je'mere neither makes excuses, nor justifies the behavior of her youth. She attributes it to "acting out" at a young age from the fact of an unstable home. Her father was incarcerated for parts of her life and when he was home he, at times, engaged in physical altercations with her mother. The violence and instability made her angry, and she reacted to it.
Alone and frightened in the shelter, Je'mere knew she had to survive in the world, and would soon be responsible for her child. She finished her education at P911, a New York City high school for pregnant and parenting teenagers. She became eligible for low income housing and started her adult life. She attended Touro College and earned a Bachelor of Arts in Human Services and a Master of Social Work.
Words like: discipline, grit, determination, persistence and mental toughness aptly define Je'mere. Another one is humble. She doesn't boast about her triumph. Instead, she uses what she gained in her moments of adversity and gives back. She guides and inspires others to lead positive, productive and healthy lives. Her life, attitude and the way she teaches show students that regardless of circumstances you can overcome and achieve.
She has a counselor's style when teaching, and it emanates from her work experience. As a college student Je'mere volunteered, for two years, with the Volunteers of America, working on Ward's Island and as a Discharge Planner for inmates at Riker's Island. In 2010 she started her professional life. She has a history of working with the incarcerated, mental health patients, domestic violence offenders and those suffering from drug and alcohol abuse. Currently, at EAC she is the supervisor of: Brooklyn TASC, Facilitator of Batterer's Intervention and the Alcohol Education Program.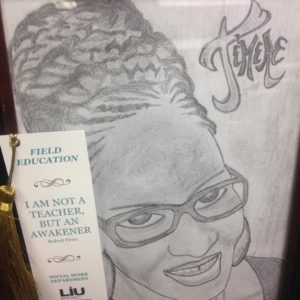 Although Je'mere, works in Human Services, she is at heart a teacher. In addition to teaching Batterers Intervention, she facilitates Alcohol Education for those arrested for DUI/DWI at the Resource Training Center. She is also OASAS approved Recovery Coach Trainer and teaches classes to those interested in helping addicts kick their habits. And is an adjunct professor, at Long Island University's Brooklyn campus, teaching Social Work Practice.
Je'mere's motivation and unflagging work ethic emanate from her dream, owing her own agency so that those who need help receive the individual attention that they deserve. So, she started Building Safer Communities, LLC, (BSC), which is a Black Business Owner Certified as a Minority and Women Owned Business Enterprise (M\WBE), and issued by N.Y.C. Small Business Services Division of Economic and Financial Opportunity. It should come as no surprise that the cornerstone of BSC, LLC is education, prevention and intervention.
She recently launched her website, buildingsafercommunities.com and has an office at 261 W. 35th St. Ste. 205 in Manhattan. Je'mere's motto, which she had registered as a trademark, is Raise The Bar & Do-It Responsibly®.  And her vision is to reach out to communities in need and make them safer ones.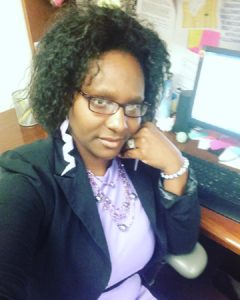 Ms. Heyward has attended comprehensive trainings and is credentialed in the areas of: Alcoholism by Prime for Life Research Prevention Institute in Rochester, N.Y.; Parenting Nurturing Parents Family Development Resources Inc., in Poughkeepsie, N.Y.; Creating a Process of Change from Men who Batter by Domestic Abuse Intervention Programs in Duluth, MN.; and the Nonprofit Leadership Executive Education Program by the Fordham Center for Non-Profit Leaders by Fordham University.
In addition, Ms. Heyward is certified with the Minority and Women Owned Business Enterprise (M/WBE) by The Small Business Administration (SBA), serves as a Connecticut Community for Addition Recovery (CCAR) Recovery Coach, as well as a Recovery Coach Trainer provider approved by the New York State office of Alcoholism and Substance Abuse Services (OASAS).
Lastly, she is a Credentialed Addictions Substance Abuse Counselor in Training (CASAC-T) and in pursuit of becoming a Credentialed Addictions Substance Abuse Counselor (CASAC). Ms. Heyward continues to pursue training and educational opportunities to improve as a professional and offer the best to her clients and community. It also directly reflects what she fosters, Raise The Bar & Do-IT-Responsibly.