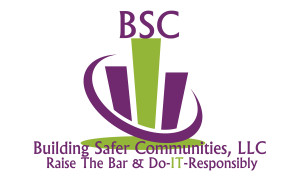 Building Safer Communities LLC (BSC)  is a for profit company that provides prevention, intervention, education and training services for adults, 18 and older. BSC also has a special education and sports feature for teens and young adults between the ages of 5 and up.
BSC offers a Building Healthy Relationships class for those suffering from domestic violence issues and or those interested in developing new ways to build healthier or enhance their relationship. BSC specializes in dealing with all types of relationships, that being, working with veterans, heterosexual, homosexual, as well as, the  lesbian, gay, bi-sexual, transgender, queer and A sexual (LGBTQA) community. BSC offers a Parenting Seminar for parents in need of sharpening their parenting skills and or for those parents facing child abuse and neglect related charges. BSC has an Impaired Driving class for those struggling with alcoholism and or drug addiction and related charges.  Recovery Coach training is another one of BSC's services and affords students the tools to help those inflicted with all forms of addiction including, but not limited to, alcoholism, drug addiction, gambling, daily life stressors, as well as, the cycle of abuse whether sexual, spiritual, physical, emotional. Lastly, BSC welcomes the opportunity for teens and young adults (male and female) to learn about the negative effects of drugs, alcohol and unhealthy relationships while engaging in a game of hoops.
BSC's goal is that students will take what they have learned and share that knowledge with their households and neighborhoods. Thus, class rubrics take a three-prong approach – individual, family and community.
Recidivism among New York City's adult population impedes individual progress, which begets fractured relationships and families. The purpose of BSC, therefore, is to redirect the status quo through education, which is the basis of societal stability and spawns responsible behavior. Government and non-government-based agencies refer clients to BSC so that they can take preventive classes to learn how to Adapt, Survive, Rebuild and Thrive. Ultimately, the classes show clients how to Raise the Bar & Do-IT-Responsibly®.
BSC's model and services are unique in the industry. Taking a holistic, proactive approach BSC helps participants remove barriers and deal with issues that may hinder their progress, such as personal, familial, community and or legal. A change from a negative path to a positive one requires teamwork; ergo, BSC works closely with individuals, neighborhood organizations, businesses, entrepreneurs, corporations and government agencies to achieve its goals
BSC's services are in direct response to a few factors. Last year in New York City there were 138,505 arrests for Domestic Violence, Child Abuse Neglect and Mistreatment, Drugs and Driving While Under the Influence of Drugs and, or Alcohol.  As an alternative to incarceration the city's Criminal and Family Courts mandate defendants to classes, but most agencies who provide classes are too singular and do not offer inclusive services to meet client needs. Moreover, agencies neither put enough emphasis on education, nor have clients take what they have learned and share it with their households and communities.
Currently, BSC has an office in Manhattan and will also travel to provide services within agencies, schools and offices. Over time BSC will have offices in each borough. BSC is committed to eliminating attitudes that thwart individual progress, healthy relationships and intact family units.